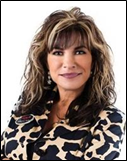 Greetings! I hope you're doing fabulously. Although our paths have crossed previously, it occurs to me that I might not have shared a more personal side of myself. If you know more about me and where I come from, then you'll understand why I'm so passionate about what I do. With that in mind, I hope you'll allow me to let you in on a little bit of my life story.
I'm sure you remember how difficult things can be as a teenager. Like many kids, I had a tough time in high school, with peer pressure often leading me down the wrong path. Thankfully, at age seventeen, I finally realized that sex, drugs, and rock and roll can never truly satisfy. Instead, I gave my life over to God, soon after enrolling at Azusa Pacific University and changing the course of my life.
At the time, I was going to school for music. But just before my senior year, I was placed in a singing group that ministered to teens at summer camp—a mission trip that would change my life. Not only were we the entertainment, but we also acted as counselors for all the kids. It was an exhausting summer (thirteen weeks in a row!), but it opened my eyes and my heart to a new calling.
From then on, my life was dedicated to working with teens. I switched to a Bible major with a youth ministry emphasis, and began spending all my time on church jobs and mission trips.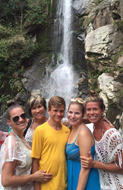 By 2002, I was a mother of four wonderful kids. But as you probably know, even the wonderful ones aren't cheap! To give our family a little boost, I took a part-time gig voicing radio ads for my husband's business. As it turned out, the advertising company loved me! They asked to hire me on as a marketing consultant, where I spent the next twelve years working with small business owners do every type of advertisement imaginable.
Getting all that marketing experience was great, but what really made me feel fulfilled was the program I created for local high school students in 2008, which I called "The Clean Scene". I knew that teens were dealing with an enormous amount of peer pressure, especially with regards to drug use. I wanted to present a way for kids who wanted to stay clean to have accountability and to get their message out.
I would start by giving a talk at the high school, speaking to them about my own experiences and encouraging them to think about their own lives. I told them it was okay to say no, to stand up and say, "This is not for me."
Then I would meet one-on-one with kids who wanted to be part of my Clean Scene. I helped them write up the reasons they wouldn't do drugs. Whether it was their future professional plans or witnessing a family member's struggle with drugs, each one of them had their own reason why.

Finally, I would bring these kids to the radio station and have them record their own ads proclaiming their reasons, publicly committing to a drug-free lifestyle. It was just a smaller town in Arizona, but the transformation was incredible. At least 300 teens went through the program, and it was so awesome working with each and every one of them.
I even put on a citywide youth musical called Who, Me? to go along with it. The show was about ordinary teenagers doing great things, and I got art and music teachers across the town involved. I may have just been "The Radio Lady", but I put a tremendous amount of energy toward improving my community.
That devotion proved to me that people are my passion, and that advertising wasn't quite doing it for me in terms of fulfillment. You wake up every day wondering, "What is my 'why'?" I couldn't quite be content with the idea that my only "why" was doing advertising for business owners.
By the end of that year, I had returned to my hometown of Sacramento, and I was looking for a new "why". I soon found my answer in real estate. I discovered such amazing gratification in helping people get into new homes, and providing positive environments for their families. It was also a perfect outlet for my years of marketing experience! Helping people to realize their dreams can be grueling and exhausting, but the years since have proved that it's more than worth it.
As always, people remain my true passion. Eventually, I would like to bring The Clean Scene to Roseville and Rocklin, so I can help others improve the lives of their families both as their Realtor and as a servant of the community.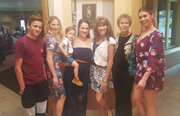 Right now, I would love nothing more than to lend my knowledge and experience toward helping you with your real estate endeavors, but I don't expect your business simply because of our relationship—I only ask that you take the time to interview me and see if I might be the best agent for you.
Buying or selling real estate is often an enormously important transaction, and the representation you receive from your agent can have significant impact on your results.
It is important for you to choose the person who will do the best job for you, and who is the right fit for your particular needs. I've worked hard as a professional to be able to provide the highest level of service, so I mightbe a good choice for you. I want you to know that if you do not choose me, I will never be upset. But if you do, I promise to work diligently to exceed your expectations.
Thank you for taking the time to learn about me. When you or someone you know is in need of a real estate agent, I hope you give me the opportunity to demonstrate my services and interview for the job.

Sincerely,

Catherine J. Smith
Realtor®